Start the 2022 school year off on the right foot with Grasshoppers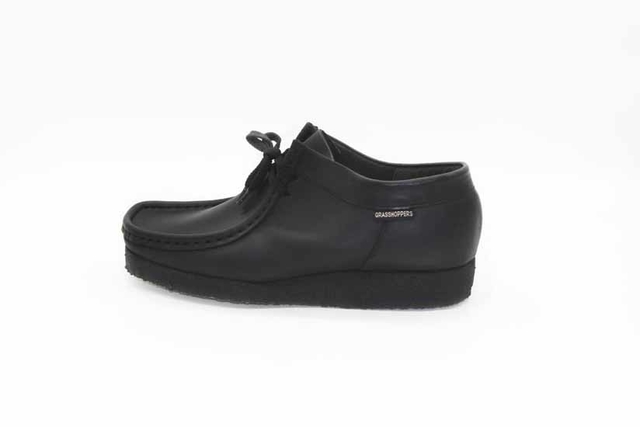 The school year has officially kicked off, and busy parents don't have to do much homework to know that Grasshoppers school shoes are still the stars of the classroom.
Trusted for generations for their function, fit and form, they're the ideal footwear for active, growing boys, and boast the title of 'the most comfortable shoes ever made - for good reason.
With their fashionable detailing, the Grasshoppers range of genuine leather school shoes will not only guarantee that your son is the coolest kid at school, but that they score top marks for their functionality too.
Both styles are genuine leather lace-ups, the Grasshoppers Hornsby, has a lightweight and comfortable sole whilst the Grasshoppers Taylor, features a genuine crepe rubber sole for ultimate durability and comfort.
The tubular moccasin construction of the uppers uses an envelope of soft leather which is wrapped around their feet to offer ultimate comfort for growing feet.
Both styles are practical enough for the classroom yet durable enough for the playground - meaning that those
inevitable scuff marks and stains from jumping in muddy puddles or an impromptu game of touch rugby are easy to clean. And you won't be breaking any school uniform rules either: because the Grasshoppers school shoe range is designed to be versatile enough to match any uniform.
Whether you're raising a bookworm or a future 'Bok, Grasshoppers have some tips on how you can put your best foot forward with back-to-school shoe shopping:
1. Long days sitting at a desk mean that extreme comfort is a must for your growing boy
An ill-fitting pair of shoes can cause pain and can throw off your child's concentration as well as mood. Ensure that his shoes are the perfect fit by having your son's feet measured - before you purchase a pair to last him throughout the school year. As a rule of thumb, there should be about half a centimetre of space at the toes, and no tightness anywhere.
2. With their active lifestyles, it's important to ensure that your boy's school shoes have a cushioned heel to absorb shock and protect the joints
Both our Grasshoppers Hornsby as well as Grasshoppers Taylor styles of shoes come standard with thick shock absorption soles,
which offer overall arch support to stand, walk and run in.
3. Muscle strength is often overlooked when choosing the perfect pair of shoes
The heavier the shoe, the harder the feet, legs and muscles have to work to provide support for your active lad – and the faster his muscles will tire. Opt for shoes that are lightweight such as the Grasshoppers Hornsby style, especially for younger boys who are still developing muscle strength.
4. Choose the right time to take your child shoe shopping
A top tip is to take your child shoe shopping towards the end of the day, as our feet can slightly increase in size throughout the day - which can impact the overall fit of a newly- purchased pair of shoes.
5. Comfort is key; so make sure your child walks around in the shoes for a few minutes, before you decide to buy it
This makes the Grasshoppers school shoe styles the perfect choice for your pre-schooler all the way through to matric. They're everything you'd want in a pair of school shoes to last him all year - durability, style and guaranteed to be the most comfortable
shoes he'll ever wear!
Our range of Grasshoppers school shoes - including the Grasshoppers Taylor crepe-soled moccasin and Grasshoppers Hornsby injection moulded 'Spoiler' styles – can be found at all major retailers, or shop online today at: www.boltonshoes.co.za/brand/grasshoppers
Supplied by: Grasshoppers | Bolton Footwear.
Guzzle Media