REVIEW: The Z Flip 3 5G is the life of luxury that isn't too expensive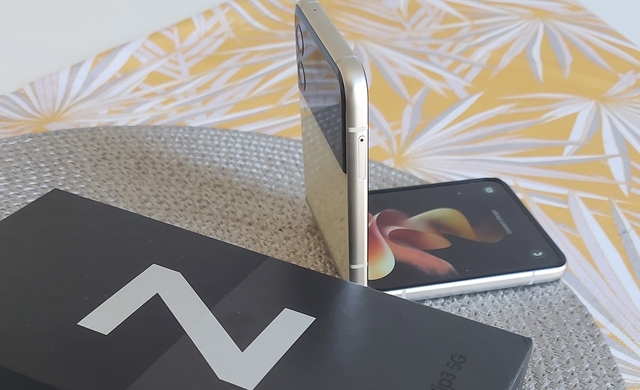 The Galaxy Z Flip 3 5G launched in 2021 alongside the Samsung Fold 3 and we here at Guzzle were given the opportunity to review the device in the colour cream.
The Galaxy Z Flip 3 5G has brought foldable technology down to a more attainable price and compared to its predecessor, the device features increased durability, increased water resistance, scratch resistance, and tougher displays.
The Galaxy Z Flip 3 screen is now 80% more durable than the one found on its predecessor, thanks to the Gorilla Glass Victus which covers the 1.9-inch outer display and Samsung constructed the phone's frame from its Armor Aluminum material.
What I loved the most about the Galaxy Z Flip 3 5G was just how pocketable the device is when folded up. When closed, the phone is just 3.4 x 2.8 x 0.63-0.67 inches, meaning it can fit in almost any pocket, it also didn't feel very weighted in my hand.
When you unfold the phone, the Galaxy Z Flip 3 features a 6.7-inch Super AMOLED display. The 2640 x 1080 resolution combined with the 120Hz refresh rate made for a truly beautiful viewing experience.
However, one thing that may bother some people is the crease across the middle of the interior display. It's still quite noticeable when you scroll over it, even though you may not see it all the time. The image distortion is especially visible in direct sunlight or in apps that use light mode. It didn't bother me in the slightest but I know that it will bother some people.
Surprisingly, the Z Flip 3 5G is also much more affordable than its predecessor and more South Africans can afford this foldable device than other available ones.
The Galaxy Z Flip 3 5G comes in four colours: Cream, Green, Lavender, and Phantom Black.
Another cool feature of the phone is that when it's closed, the 1.9-inch front screen is a touchscreen that has a few functions such as you control music, checking the weather, and even taking selfies.
When it comes to the camera, on the back, you get a 12MP (f/1.8) wide-angle shooter and a 12MP (f/2.2) ultrawide one. The selfie camera is 10MP with an f/2.4 aperture. There is still no telephoto lens on the Galaxy Z Flip 3 5G.
The Galaxy Z Flip 3 5G can record video at up to 4K resolution at 60 frames per second. The end result is crisp and smooth and looks great.
The device is powered by a 3,300 mAh battery and I must say that the Flip's battery life wasn't that impressive as it is small, so it's not very long-lasting.
Other specs found on the device include:
OS: Android 11 / One UI 3.1
Inner display: 6.7-inch Super AMOLED (2640 x 1080)
Outer display: 1.9-inch Super AMOLED (260 x 512)
Refresh rate: 120Hz (inner)
CPU: Snapdragon 888
RAM: 8GB
Storage: 128GB, 256GB
Rear cameras: 12MP (f/1.8) main, 12MP (f/2.2) ultrawide
Front camera: 10MP (f/2.4)
Battery: 3,300 mAh
In conclusion, the Samsung Galaxy Z Flip 3 5G really changes the game when it comes to foldable phones and it's an affordable luxury.
Samsung has taken foldable phones from being an impossible piece of technology that only a few could experience to making it more affordable and practical for many more to enjoy.
Overall, the device comes with good camera performance, a great processor, a decent battery, water resistance, and a fun, colourful design. It also comes with 5G support, eSIM support, and a price that is in line with some of Samsung's other premium flagships.
However, it does also have a few setbacks such as the slower charging, a smaller battery, and still generally needing to be wary of the device's hinge that could get damaged.
The Samsung Z Flip 3 5G is available at major retailers and online for the price of R21,999. It is also available on contract at any of your mobile operators.
Written by: Shihaam (Gabriella) Steyn- Adams.
Guzzle Media