Shoprite – Hartswater

Shoprite | Latest Catalogues and Specials
Shoprite was established in 1979 and is one of South Africa's largest retail chain. The retail giant is also listed on the JSE as well as the Zambian and Namibian Stock Exchanges. The Shoprite Group of companies (Shoprite Holdings) operates 1525 corporate and 377 franchise outlets in 16 countries. The group consists of:

Shoprite Checkers Checkers Hyper Shoprite U Save OK Furniture House and Home Media Rite Liquor Shops (Shoprite and Checkers) Hungry Lion Trans Farm

To this day, Shoprite Stores still remain the groups main brand focus. The chain endeavours to provide customers quality products at low prices -they constantly live up to this promise and are growing from strength to strength.
Shoprite products
Shoprite stores offer a wide range of everyday household products at affordable prices. Amongst a wide range of others, their product range includes:

Meat and Seafood: A wide variety of meats for every taste and requirement, including boerewors, fillets, lamb, beef, pork, chicken as well as a variety of seafood products. All products are sold either from the butchery or frozen.

Fruit and Veg: Shoprite Stores endeavour to provide fresh fruit and vegetables to customers at the lowest prices. They have a variety of products and ensure fresh produce is always readily available for their clients.

Cheese and Dairy: A wide range of products are available from the dairy department. Whether you are looking for that delicious gourmet cheese, everyday milk, fresh cream or other dairy products, Shoprite will have it all!

Tinned food: A wide variety of tinned food is readily available at Shoprite. If you are looking for tinned fruit, veg, sauces, soups or even tinned products for your pets- Shoprite ensures that their shelves are always fully stocked.

Bathroom, health and beauty: Shoprite provide a wide range of backroom, health and beauty products including soaps, sanitizers, creams, shampoos, conditioners, deodorants, toilet papers and much more.

Cleaning products and detergents: Shoprite also provides a wide range of cleaning products and detergents for your home.
Shoprite Specials
Shoprite is one of South Africa's leading and largest retailers, offering household products to the public at greatly reduced prices. That is why a wide range of Shoprite specials and deals are readily available weekly! Don't delay, browse Guzzle now to view Shoprite specials and deals in your area now!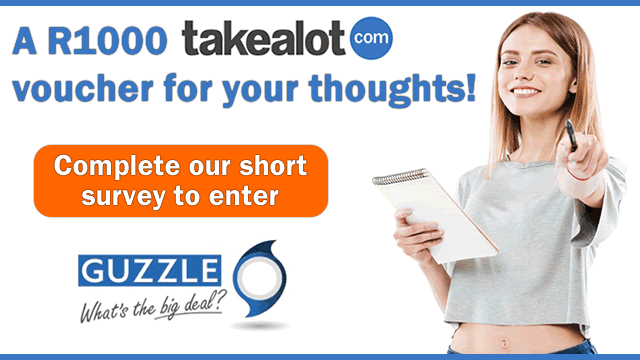 Don't miss out

on new promotions!